Expert Siding Installation in Massachusetts
Ben's Construction Inc specializes in siding installation for a variety of siding products, suitable for both residential and commercial buildings. We are a proud VSI Certified Installer for vinyl siding, as well as a James Hardie Certified Installer for fiber cement.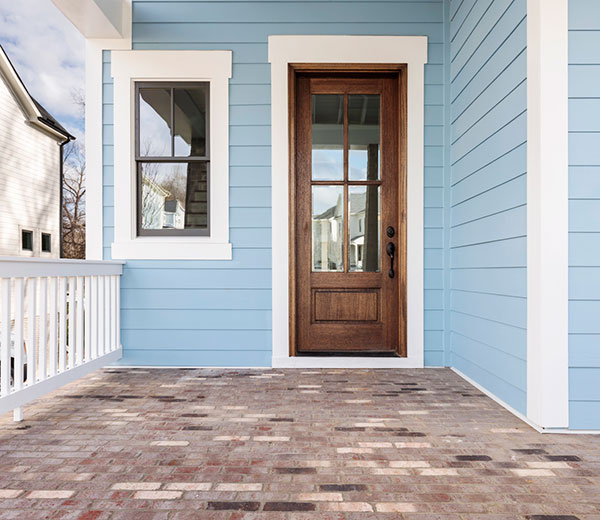 Whether your home needs a small replacement or you're ready to install siding on a brand new commercial property, you can count on the professional team at Ben's Construction.
Types of Siding We Install
James Hardie® Fiber Cement Siding
Ben's Construction Inc is a proud Certified Installer of James Hardie® siding. Contractors like us love James Hardie siding products because they are durable and low-maintenance. Fiber cement siding resists damage from wet, humid weather, wind and hail, cold and snow, and insect damage – unlike wood siding.
Homeowners who are looking for beauty and value can trust the James Hardie brand. These siding products offer the natural look of wood with the durability of fiber cement. James Hardie also offers a wide range of colors and finishes.
At Ben's Construction Inc, we work closely with James Hardie representatives to provide customers with a wide range of options and professional craftmanship. James Hardie backs its siding products with up to a 50-year warranty against chipping, cracking and delaminating.
Vinyl Siding
Ben's Construction Inc excels in installation, repairs and maintenance of vinyl siding and trim. Vinyl siding is the most commonly installed exterior cladding on residential homes. It is durable and can add value to your home.
Ben's Construction Inc is a VSI Certified Installer for vinyl siding and we offer installations of all vinyl siding products. We offer a huge selection of colors and finishes, from traditional horizontal siding to vertical, shake and shingle siding.
Wood Shingles & Clapboard Siding
Ben's Construction Inc provides quality craftmanship for installation, repairs and maintenance of wood siding. Wood shingles and clapboard siding are among the oldest types of siding. They can be found throughout New England. Wood siding requires frequent maintenance and regular assessments to ensure the wood is not cracked or rotten, and to inspect for insect damage. For many homeowners, the high maintenance is worth it for the traditional look that wood siding offers.
Contact Us for a Free Estimate
Ben's Construction Inc is available to discuss your siding needs and offer you an estimate for our professional siding installation and repair services. Call us at (508) 962-2417 or submit the online form to get started. We'll be glad to hear from you.