Professional Gutter Installation, Repairs & Cleaning
The importance of a well-designed gutter system to your home or business can't be overstated. When rain, snow and other harsh weather hits your building, make sure your gutters are doing their job with help from Ben's Construction Inc As professional exterior improvement contractors, our team has years of experience installing top-quality gutter systems on homes and commercial buildings across Massachusetts.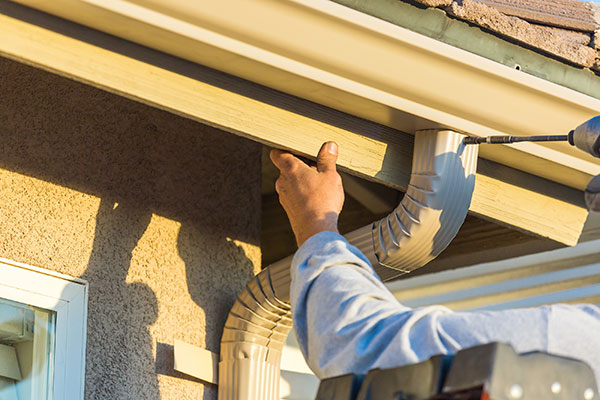 Gutter Options
Seamless Aluminum Gutters
For an affordable, quality gutter solution, seamless aluminum gutters are the top choice. These gutters are popular not only for their cost efficiency, but also their low maintenance demands and high performance. Because they're made of aluminum, as opposed to another metal or vinyl, aluminum gutters can withstand years of rain, snow and other elements better than other materials.
Copper Gutters
Copper gutters are the most elegant and most valuable rain gutter system available today. Ben's Construction Inc specializes in custom-making copper gutters, as well as downspouts, scuppers and accessories for your copper gutter system.
Copper gutters are a long-term investment in your home. Ben's Construction Inc offers quality craftsmanship when designing and custom-making gutters on site. We specialize in maintaining and preserving the value of the product by taking preventative measures to avoid premature tarnishing.
Gutter Guard Systems
Eliminate the hassle of cleaning leaves and other debris out of your gutters by installing a gutter guard system. Available from several manufacturers, gutter guard systems are generally a filter system that covers your gutters to allow water in while keeping debris out. Ben's Construction can help you choose the best gutter guard system for your gutters. Contact us today to learn more!
Seasonal Gutter Cleaning
Nip gutter clogs in the bud with seasonal gutter cleaning services from Ben's Construction. We have the equipment, expertise and manpower to safely and effectively clear your gutters of leaves, twigs, seeds and other debris.
Contact Us for Professional Gutter Installation & More
Contact Ben's Construction Inc for expert gutter services. We install, repair and replace all types of gutter systems, including both residential and commercial gutters. Call us today at (508) 962-2417 or fill out the online form to get started. We'll be glad to discuss your gutter needs and offer you a free estimate.